Velvet Blazer- Thrifted
dress - thrifted
belt-
Francescas
tights- target
heels- target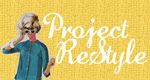 Yesterday I got dressed up for a Costco run, who doesn't do that? Theres nothing like tights & heels to enhance the Costco experience.
I've had that maxi dress for a little while now. Had originally wanted to make the bottom portion ruffled, but realized that I had no where near enough fabric for it. The hubs thought I was crazy when I had brought it home. He didn't see the potential!
Made my own on pattern on this one, though I've said that I need to get some patterns to work with, I can't help how convenient it is to make my own. I used the book
Little Green Dresses
for guidance. Its a MUST have for any seamtresses collection. It was really simple to make, now I want to run out and make more, adjusting widths, maybe adding some pockets :)
Remember I said something about scoring big time at the Deseret Thrift store on my way back from our weekend trip? Well I'm the proud new owner of that GORGEOUS velvet blazer. I looked up the maker and this sexy beast, it's a 70's vintage blazer in PERFECT condition. It was the first thing I saw when I walked in the door and walked straight to it. While I was holding and admiring a lady walked up to me and I said "I dont know you, but that jacket just looks like you!", I told her I thought so too!
*sigh*
I'm having fun :)